Ever wondered how exactly you're held in the air while in our classes? Although most of us had an idea, it's common for aerialists to simply trust the rigging that exists, and very rarely are we encouraged to inspect and be curious. This November, we were delighted to be able to provide all of our team with a 4-day aerial rigging course. Aerial dance is what it says on the jar – dancing in the air. To be able to do this and to feel safe and know you are, relies first and foremost on the equipment we use and how it has been rigged up in the air. We welcomed Brian Donaldson from High Performance Rigging to teach us about safety, maintenance, inspection, knotwork and so much more.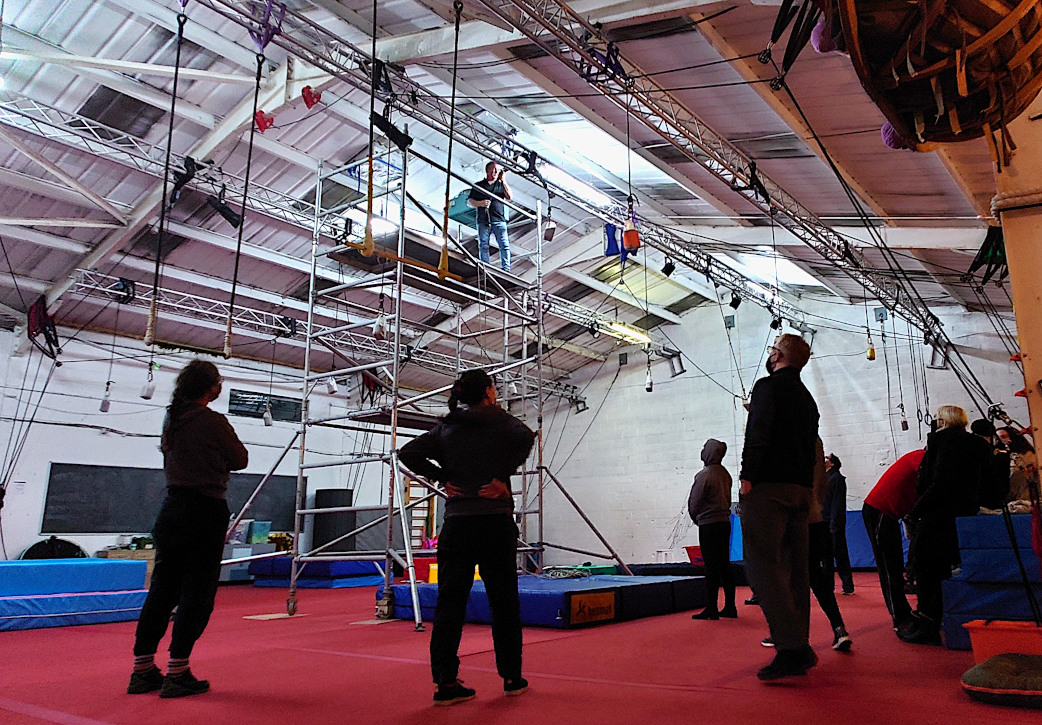 Brian has taught this course for many years, all over Ireland and the UK. His company has rigged for all the biggest circus companies in the world, for highly innovative creative pieces all the way to extreme athletes and celebrities. His knowledge is vast, and all our staff were blown away by his fountain of knowledge and his ability to explain more complicated topics. However, Shane Holohan (Director) – who has attended this course before, saw an opportunity to expand the course and make it far more interactive with his expansive pedagogical knowledge. So, we were extremely lucky to be the first to attend the 'Applied Rigging Course'- by High Performance Rigging. This approach meant we would practice the theory we learn and really get to grips with how to rig, and how to inspect, approach and work with rigging in other venues other than our own.
The course was split into 2 weekends. First, we had to get a huge chunk of theory out of the way. Sitting like school kids, even the most gripping topics can start to melt down the whiteboard, but after 6 hours, we had covered all equipment and how to calculate the breaking points and working loads of them all. Circus rigging has always been somewhat of a mongrel. Our practice is quite niche, and many companies don't even realise that their equipment is being used for these feats. The professionals in our industry take equipment and influence from the climbing, sailing and construction worlds. Understanding this and the fact that depending on what type of equipment we are using, their safety measurements are calculated in completely different ways.
From the second day, we were way more hands on! We built our own counter-weight systems to fully understand how to maximise mechanical advantage (that's when the system you rig takes loads of the weight for you), and the sacrifices you make when gaining advantage somewhere else. We also looked at the different knots we use in aerial and which ones are better suited for which purpose. After just 2 days, all of us were so much more confident in our approach to rigging in our studio, locations and theatres and even started to think of some creative rigging possibilities. As the days went on the practical applications just grew and grew. From simple things like using a ladder properly, to how to keep organised while at height and keeping a cool head for those who are afraid of heights (it's a lot of us ironically).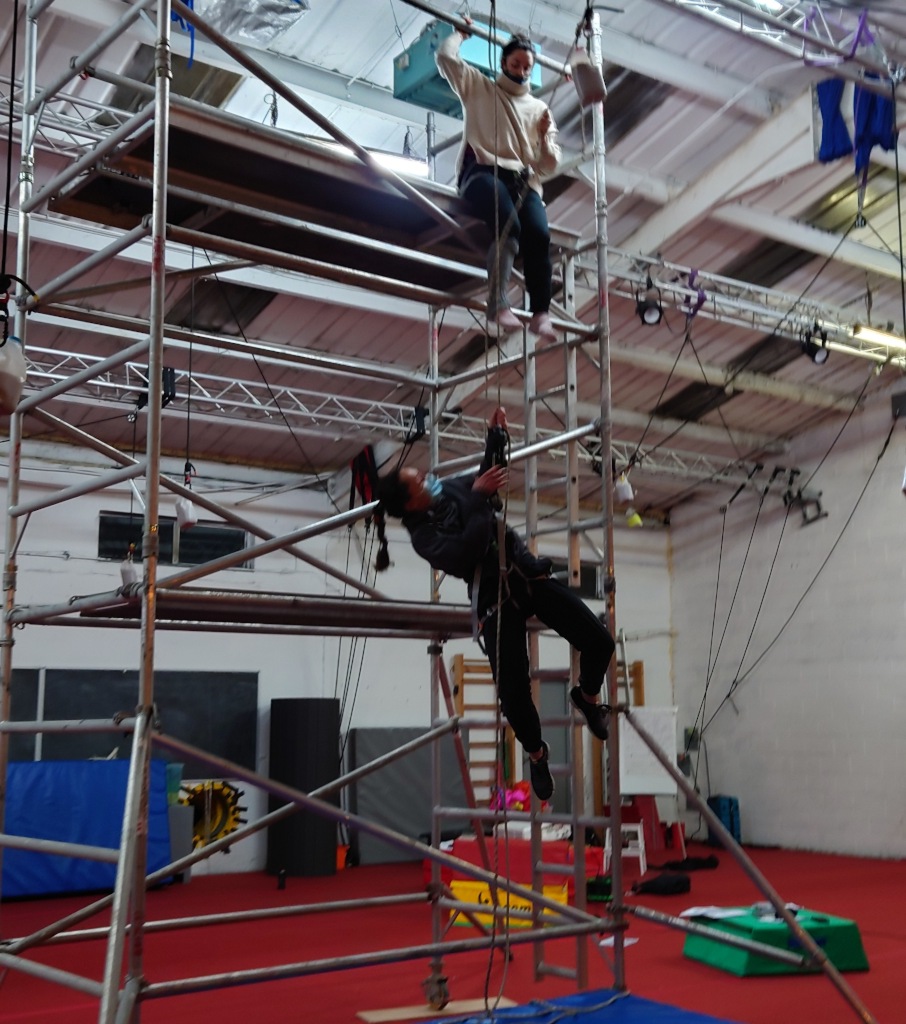 I think though, the highlight of the course for everyone was scaffold building and abseil descent rescue. In aerial arts, it's pretty rare that someone will get really stuck at a height, unless you're dealing with apparatus' that lock in their performer like vertical dance, straps or hair hanging. This is why most of our rigging points in the studio are on a pulley system, if someone gets stuck, we can from the ground, safely lower and rescue in most scenarios. However, vertical dance points are very rarely on a pulley system. Abseil rescue can be applied whenever someone is stuck at height and cannot self-rescue, which would always be the preferred option. It is done by lowering yourself down to the performer or athlete, taking their weight onto your system, and lowering them back to safety. Although extremely fun as a simulation, we were all aware that in real life, this can be downright stressful and extremely scary. So that's why we had to do it so many times. Almost an entire day of the course was dedicated to this. While also making rings with steel cable and switching out our hard-rigged trapezes with steel pulley systems.
I know I've said it already, but by the end of the weekends, we were all so full of awe and respect for our practice and the industry we work in. The point of circus has always been risk-taking, and seeing how riggers have made it possible to minimize this risk and innovate incredible structures that we can perform with just exploded my heart with love and pride. The only way we have been able to keep doing what we do, is down to the knowledge that is built on and shared by our community. This entire education and development wouldn't be possible without the Art's Council's Building Capacity Grant and the hard work of all Taking Flight's management and directors. And of course the biggest shout out to Brian and HP Rigging, we are so excited to keep learning from him and seeing the feats his company keep reaching. Lastly to all our staff who gave it their all from start to finish, and made our studio and community a safer space by opening themselves up to new techniques and challenges!