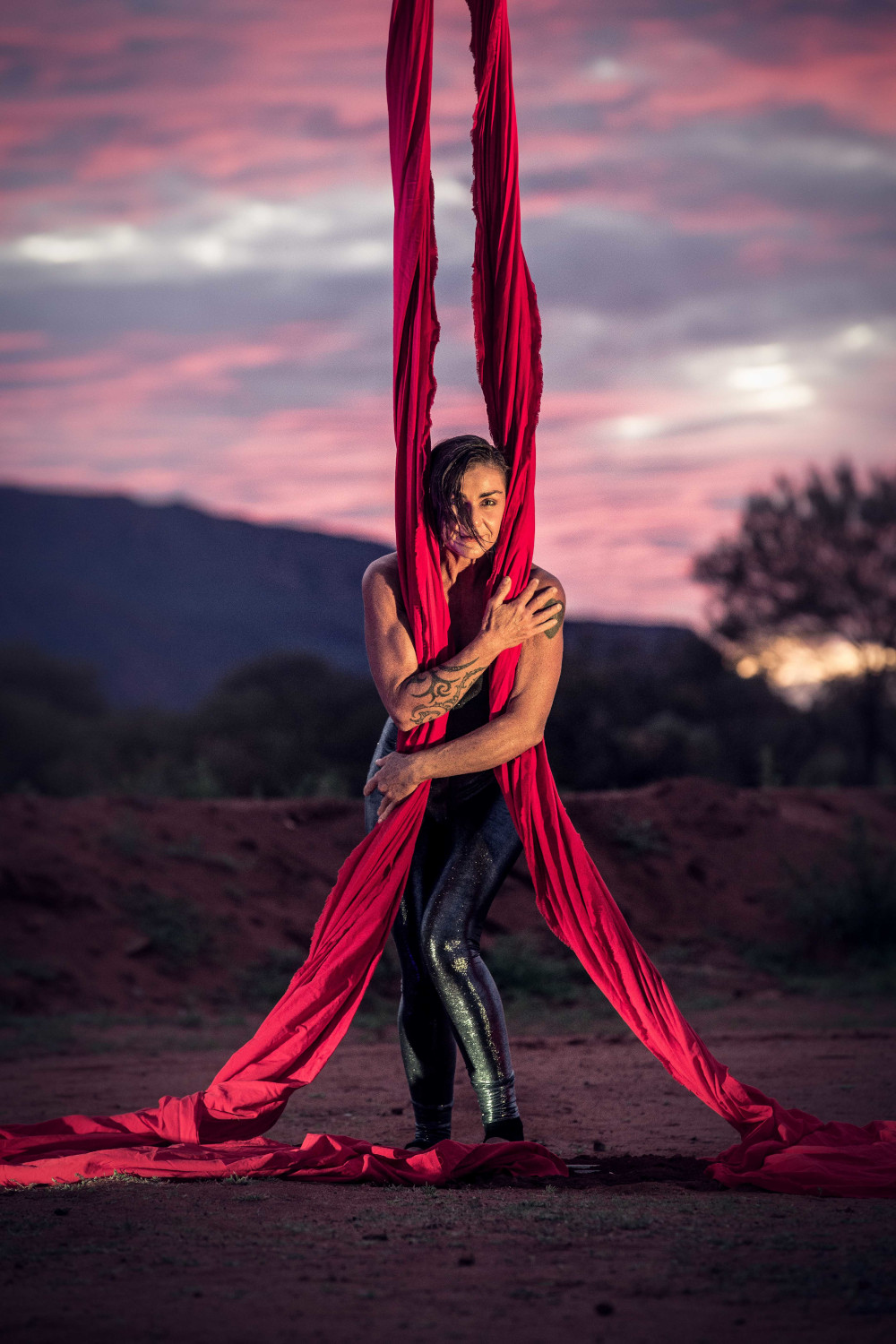 Theaker von Ziarno is an international street artist, rigger, and festival producer living in the remote outback town of Carnarvon in Western Australia. For over a decade her aerial performances have amazed people all over the world; from a small town in Austria to an air balloon in Trinidad, Theaker has performed in all manner of places to all manner of people.
As well as performing, Theaker has produced and managed festivals, creating the 'Gascoyne in May' series of festivals in Western Australia, now called "Creality".
How did you get into aerial performance?
When I was a child l loved to climb trees and swing off monkey bars and clotheslines. As a teenager I was an artist in earnest, a sculptor and performance artist. I would produce epic promenade performance events in industrial wastelands and suspend by body in relation to architecture for hours at a time; not very entertaining! After this I committed to a course in 'rigging' and started training as an aerialist. This was my first introduction to performance as entertainment. It quickly became a passion over taking my life as an academic artist. I think that aerial performance is a powerful way to focus ones' self. The fact that it's mental, emotional and physical means you have to be centered in yourself, you have to be focused and you have to understand your strengths and weaknesses; certainly no space for delusions! For me, it's moving meditation and a way to bring positive energy to the world. It is also important for me to reinforce a collective mentality that knows how to navigate 'danger' safely: To reinforce a 'live with care, don't live in fear' mentality. This was one of the many reasons I developed my aerial street shows.
Theaker Von Ziarno is an artist, producer, director, rigger and cultural leader. One of the first solo aerial street performers in the world to build her aerial rig as part of the show (2001), has staged 19 independent international tours and has aerial rigs on three continents. With years experience curating, programming and delivering festivals and events in Australia and EU, she is an advanced rigger with experience in circus, festival , and Rope Access Tech. She believes in the power of Art to enrich and transform lives and has dedicated her life to do so.
Please contact us if you are interested in private sessions with Theaker. She specialises in act development, act direction, street performance and Static trapeze up to intermediate.