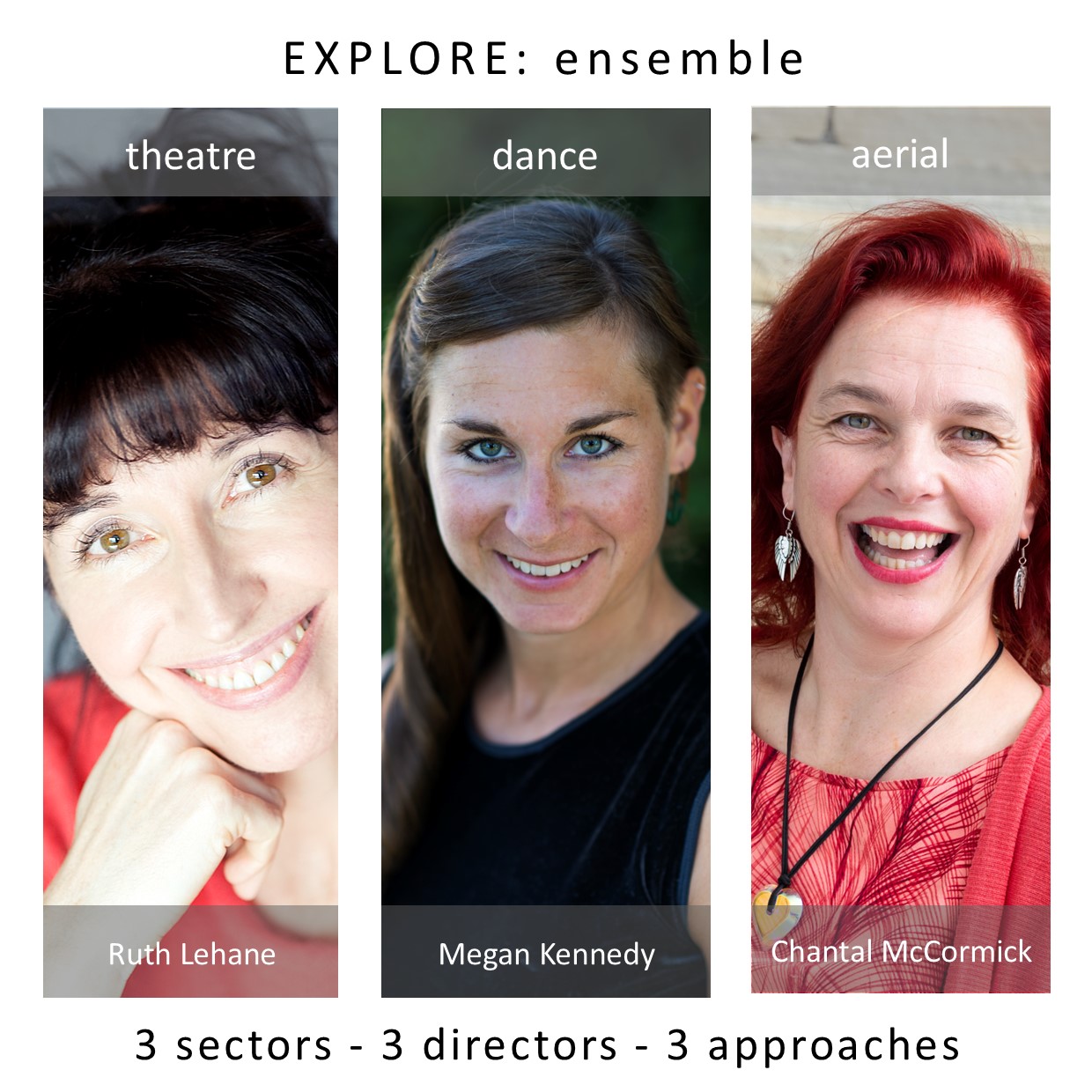 SPECIFICATIONS
Who:
6 circus artists (aerial and non-aerial) 6 non-circus performing artists
How:
Implementation includes 3 x 2-day exercises to involve the participants working with a director for 2 days, to be taken through a creative generative process.
Each 2-day exercise will culminate in an in person and streamed presentation of work and Questions & Answers session between the director, participating artists.
How to Apply:
Applications using this LINK. Closing Date: 22nd October 2022.
Applicants must be available for all sessions. Upon full participation in the project, each artist will receive a stipend of €240 towards their costs.
When:
6th - 11th November, 2022
Sunday: Theatre 10am to 5pm
Monday: Theatre 10am to 5pm; 8pm to 10pm (public showing, Q&A)
Tuesday: Aerial Dance 10am to 5pm
Wednesday: Aerial Dance 10am to 5pm; 8pm to 10pm (public showing, Q&A)
Thursday: Dance 10am to 5pm
Friday: Dance 10am to 5pm; 8pm to 10pm (public showing, Q&A)
Where: Taking Flight studio - Phibsborough
Facilitators:
Chantal McCormick (Aerial Dance)
Chantal trained at the London School of Contemporary Dance and became interested in aerial circus after graduating. She toured with established dance and circus companies in the UK touring to Trinidad, Europe and Australia from 1999-2008 including Scarabeus Theatre with whom she started her circus career. Chantal loves creating using her contemporary dance, contact dance and theatre skills and enjoys finding ways to bring them into the air, using anything to climb or fly on.
In 1998 Chantal co-founded FIDGET FEET Aerial Dance Theatre, Ireland's leading aerial dance company with whom she directs, choreographs, and performs. Since 1998 she has directed many shows including, 'I Cant Handle me', 'Remember Her', ' Wired and Free',' Fairies Tale', 'Raw', ' Hang on', 'Catch me', 'Fire Birds', 'The Elves and the Shoemaker' 'Cinder & the Ellas', 'Dreams under my Feet', 'Sky Dance', 'Hatch' and Co- choreographed FF 's first early years show 'Strange feathers' with Icelandic partner Bird & Bat while also choreographing 'The Second Coming', with Mikel Murfi as director mixing Irish dancing with aerial. She choreographed and performed in 'Bingo Wings' Directed by Jo Mangan, an award-winning Circus Theatre production. In 2021 she directed 'A Handful of Dreams' a new outdoor aerial dance show with traditional Irish music and dance.
In addition to creating work, Chantal has been teaching since she was 16 years old. Fidget Feet provides creative opportunities to both professional performers and the public by offering educational workshops and one-off classes. Chantal is also a strong advocate for the development of aerial work in Ireland. Running the Irish Aerial Dance Festival (IADF) in Ireland for the last 12 years growing in 2019 to 120 national and international artists traveling to IADF for 2 weeks, it has grown into one of the biggest aerial festival in Europe, with support from Donegal County Council and An Grianán Theatre. Mícheál Ó Súilleabháin in 2008 saw FF's performance "Raw" at Edinburgh Fringe, funded by Culture Ireland, then he invited FF to be resident company at the Irish World Academy of Music and Dance at University of Limerick in 2013. Chantal has led this partnership and we continue to be resident company there Chantal has given many talks , and taught session on the MA in festive arts and also she and her team teach the dance degree and MA students.
Megan Kennedy (Dance) Megan trained at Alvin Ailey Dance Center in New York City and received a B.A. Honours from Queen Margaret University in Edinburgh. Megan is Co-Artistic Director of multi-award winning Junk Ensemble, who are previous resident artists at the Tate and creators of Dolores and Soldier Still. Choreography for live performance includes The Last Return (Druid Theatre), Portia Coughlan (Abbey Theatre, dir: Caroline Byrne), What Did I Miss (The Ark, dir: Sean Dunne), Fleeting (Seve Feathers, dir: Megan Kennedy), Gym Swim Party (O'Reilly Theatre Dublin), Villette (West Yorkshire Playhouse), Town is Dead (The Abbey Theatre), Tasting Blue (Live Collision), Tchaikovsky's Queen of Spades Opera (Edinburgh Festival Theatre), Marble & Bread (Dance Limerick).
For film, choreography and performance include Wildfire (Samson Films/dir: Cathy Brady), It Is In Us All (dir: Antonia Campbell Hughes), In Velvet & Fallow Table (Junk Ensemble), 6SKIN (dir: Alice Maher & Aideen Barry), Five Letters to the Stranger Who Will Dissect My Brain (dir: Oonagh Kearney), The Wake (dir: Oonagh Kearney), Óiche Nollaig na mBan (RTÉ), Wonder House (Dublin Film Festival), Her Mother's Daughters (Winner Best Actress Capalbio Festival Italy/dir: Oonagh Kearney). Megan has performed with Retina Dance Company (UK), Brokentalkers (The Blue Boy, On This One Night) (IRL), CoisCéim Dance Theatre (Faun, As You Are) (IRL), The Abbey Theatre (Romeo & Juliet) (IRL), Loosysmokes Aerial Company (IRL), Tanz Lange (Germany), Blast Theory (UK), Bedrock Productions (IRL) and productions for The Ark and The Pavilion (IRL). She is a Fellow of Salzburg Global Seminar. www.junkensemble.com
Ruth Lehane (Theatre) Ruth Lehane is an award winning actress, theatre maker, movement director and performance coach. Having trained at The Samuel Beckett Centre, Trinity College, Dublin, her interest in movement brought her to further study at Ecole Jacques Lecoq, Paris for two years; and The Theatre Resource Centre, Toronto, Canada. Ruth's professional experience is therefore characterised by versatility: while much of her work has been explicitly text-based, she is also well acquainted with a highly physical approach to theatre. Her vast range of experience as an actor, theatre maker and movement director has seen her work with a diverse range of companies both nationally and internationally some of which include; The Abbey, Dublin; The Lyric, Belfast; Barabbas; Blue Raincoat; The Ark; Big Telly; The Belgrade Theatre; Cahoots NI; Tinderbox, Dance Limerick and Fabulous Beast. She has toured with her work internationally to London, Edinburg, Glasgow, Barcelona, Madrid, Berlin, Bulgaria, Romania and New York. She is the founder of Fourth Leaf Theatre Company. Ruth's company makes theatre that provokes challenges and delights an audience. Being well acquainted with collaboration and the creation of new work, she recently co directed an exciting piece, "Women & Work – The Contract" for Dance Limerick. Ruth is a highly skilled practitioner influenced by the methodology of Jacques Lecoq and the disciplines of Theatre of Clown, Neutral Mask, Gestural Language and The Architecture of the Space. She runs workshops and teaches at The Lir Academy; The Gaiety School of Acting; Helena Walsh Voice Studio and The Abbey Theatre Skills for Business Programme. She works as a movement director in film, her recent feature films include: Award winning, "The Hole in the Ground" 2019; "Vivarium" 2019; and "The Cured" 2017.
Funding This project is funded by the Arts Council of Ireland/Arts Grant Fund.